Activities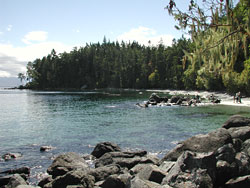 Southern Vancouver Island – Victoria to Sooke to Port Renfrew – has some of the best attraction and recreation choices on the west coast of British Columbia! Come discover why.
Just 17 kilometers from downtown Victoria, Goldstream Provincial Park lies amid the splendour of an old-growth temperate rain forest. West Coast wilderness awaits you at East Sooke Regional Park. Experience it as you hike along the windswept rocky coast, over dry hilltops, through dark rain forest to sheltered coves. French Beach is a 59 hectare park along the spectacular Strait of Juan de Fuca which offers beautiful trails, whale watching, secluded campsites and waterfront picnic areas. If swimming is your thing, then be sure to visit Sooke Potholes, a swimmers paradise. Just a 30 minute car ride beyond the urban core, the Sooke potholes are one of the more popular swimming spots in the capital region.
Avid bird lovers will discover a feast for the eyes at Esquimalt Lagoon, a saltwater lagoon and migratory bird sanctuary located at the base of the Royal Roads property, next to the Fort Rodd Hill / Fisgard Lighthouse National Historic Sites and offering an excellent view across Esquimalt Harbour. At Fort Rodd Hill, visitors can explore gun batteries and underground magazines built a century ago, as well as searchlight emplacements, command posts…and much more. Families often bring a picnic lunch and stay for a half a day. While the kids investigate our tide pools, parents can enjoy the spectacular sea and mountain views. The first lighthouse on Canada's west coast, Fisgard Lighthouse is still in operation, and is a National Historic Site.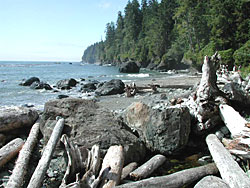 If you're into hiking, you'll love the Juan De Fuca Marine Trail, a 47 kilometer hiking trail stretching along the western shoreline of southern Vancouver Island, Canada, from China Beach, just west of the community of Jordan River and extending to Botanical Beach near Port Renfrew. Another good hiking trail is The West Coast Trail, the third unit of the Pacific Rim National Park, which includes the section of coast southeast of Barkley Sound between the villages of Bamfield and Port Renfrew.
Another great trail for nature lovers is The Galloping Goose Trail, where you can travel for nearly 60 kilometers. You can cycle, walk, or ride a horse along this former rail line past some of B.C.'s finest scenery.
Adjacent to the Strait of Juan de Fuca, in the Bilston Creek Watershed, lies Witty's Lagoon Regional Park, a harmonious blend of protected natural environments.
On the grounds of Hatley Park and Royal Roads University in Victoria, you'll find Hatley Castle and Hatley Gardens, and both are worth a visit! The Castle was completed in 1908. From 1941 until 1943 when Grant Block was completed, the Castle served as dormitory and mess hall for cadets and staff officers at Royal Roads Military College.
Here in the western communities of Victoria you can enjoy the natural beauty and natural history that Victoria and southern Vancouver Island are renowned for. We hope you will discover the diversity and beauty that is Vancouver Island. For more to see and do in this beautiful area, please visit City of Victoria's recreation and culture site.